If you are a small business owner, you may not know that setting up a Google My Business profile is free. The first thing you must have is a Business website. Contact me if you are just getting started as a business and don't have your business website yet. But if you do have a website, your business is probably going to be found online via Google. (Side note: A Business Facebook page doesn't count. Google won't allow you to link to it.) What I mean by "being found online" is more than being found by your business name. (i.e. Web Luminary) What I mean is being found online by potential customers for your business category. (i.e. website designer near me). If you still aren't convinced you need a profile, read my blog "5 Reasons Why your Business Needs a Google Business Profile" Below, I will walk you through the process of creating your Google My Business profile to ensure maximum Google search visibility. Also, I have a video example of setting up a Google Profile for a client you can watch. So, let's get started!
Step 1: Check if you already have a Google My Business listing.
Open a web browser and go to www.google.com.
Search for your business name using the search bar.
Look for the Google My Business listing that appears, showing your business name, phone number, and address.
If you find a listing, you already have a Google My Business profile. Proceed to step 2. If not, continue to step 3.
Step 2: Manage your existing Google My Business listing. From here you can edit your Google My Business Listing. You should see something like this on the right side.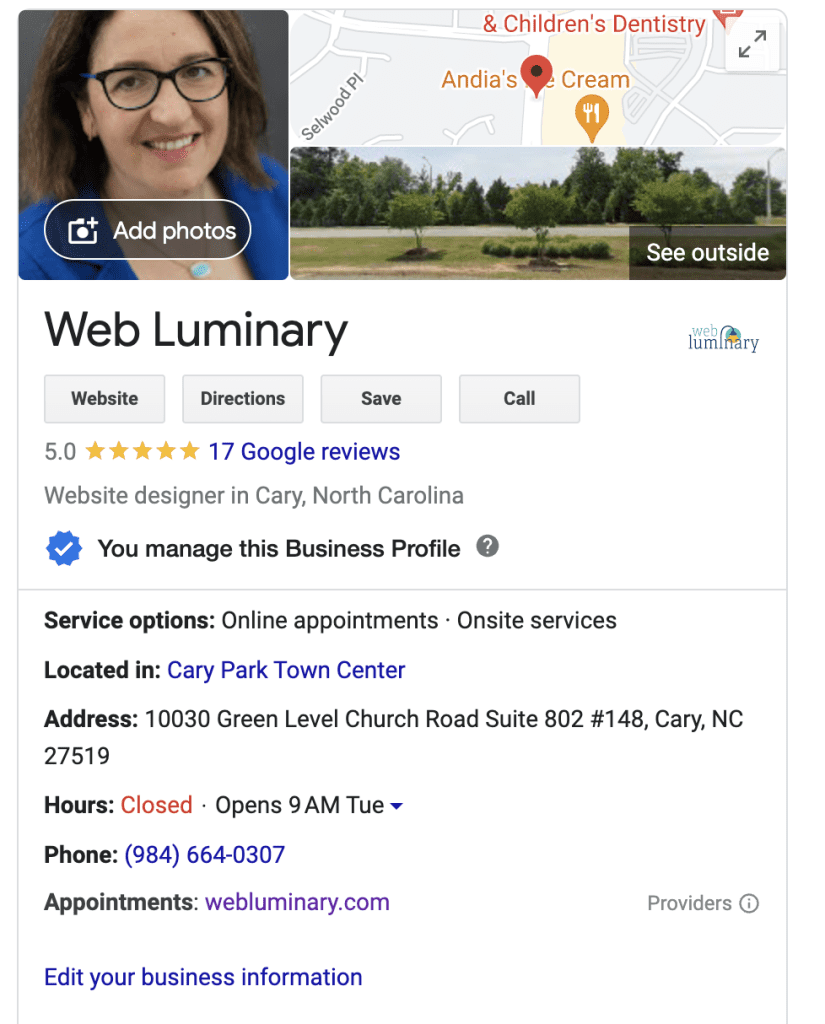 Locate the section that displays your business information.
Click on "Edit your Business Information" to make changes and update your profile.
Continue to Step 3 if you do not have a Google Profile, if you Do have a Google Profile, go to step 4.
Step 3: Create a new Google My Business profile
Go to www.google.com/business/.
Sign in to your Google account. If you don't have a Gmail email address, you can create one by clicking on "Manage now" and following the prompts.
Once signed in, click on "Manage now" or "Sign in" if you already have a Gmail account.
Click on the button that says "Add business as a single business."
Enter your business name and click the "Next" button.
Step 4: SELECT YOUR MAIN business category.
Review the available business categories and choose the one that best describes your business.
Ensure that the category accurately represents your business and aligns with the services or products you offer.
If you're unsure about the category to choose, check what categories your competitors are using.
If you don't seem to have any local competitors. Look in parts of the United States that probably do have business like yours and see the main category they selected. For example, when I was setting up the google profile for an errand/concierge service, I found that "courier service" was used more than the "home help service agency".
Pick a category that is relevant and likely to generate more clicks from potential customers.
Step 5: Optimize your category selection To ensure the best visibility for your business, consider optimizing your category selection. Here's what you can do:
Compare different keywords and select the one that aligns with your business and has the highest search volume. Watch my video below on how I selected the main category for a Glass Installation Company. There were many categories that fit their business, but I wanted to find the best one that would generate the most calls.
Your main "Category" makes a big difference in your ranking for that category- more than a secondary category. Also, if you have many options for main category you might want to consider which of your services has the least competition in your area but has a strong demand.
For secondary categories, you do not have to use the pre-provided list. Make sure you type in all the services you provide.
Step 6: Specify your business location and/or service area
Indicate whether you have a physical location that customers can visit, such as a store or office. If you do not have a business location, you might want to consider renting in a co-working space. Having a business location in the area you want to serve greatly increases the likelihood of being found in the Google Map.
If applicable, enter the geographical area or specific locations that your business serves.
You can be as general as specifying counties or as granular as mentioning zip codes.
If you can service anyone in the United States, resist the urge to put a circle around the entire U.S. You will never be found in California and Maine. Start with a city/county that your business is in. For example, I rank #1 or #2 in Cary, NC. I knew when I created my profile that Raleigh NC had too much competition and as a small business website designer, I would never rank in the top 3 of Google Maps for Raleigh.
Step6: Fill out the rest of the Google Profile information. It will let you know when you are done with a percent complete graph indicator.
If you have more questions, you can watch my video setting up a Google Profile for "Interstate Glass".