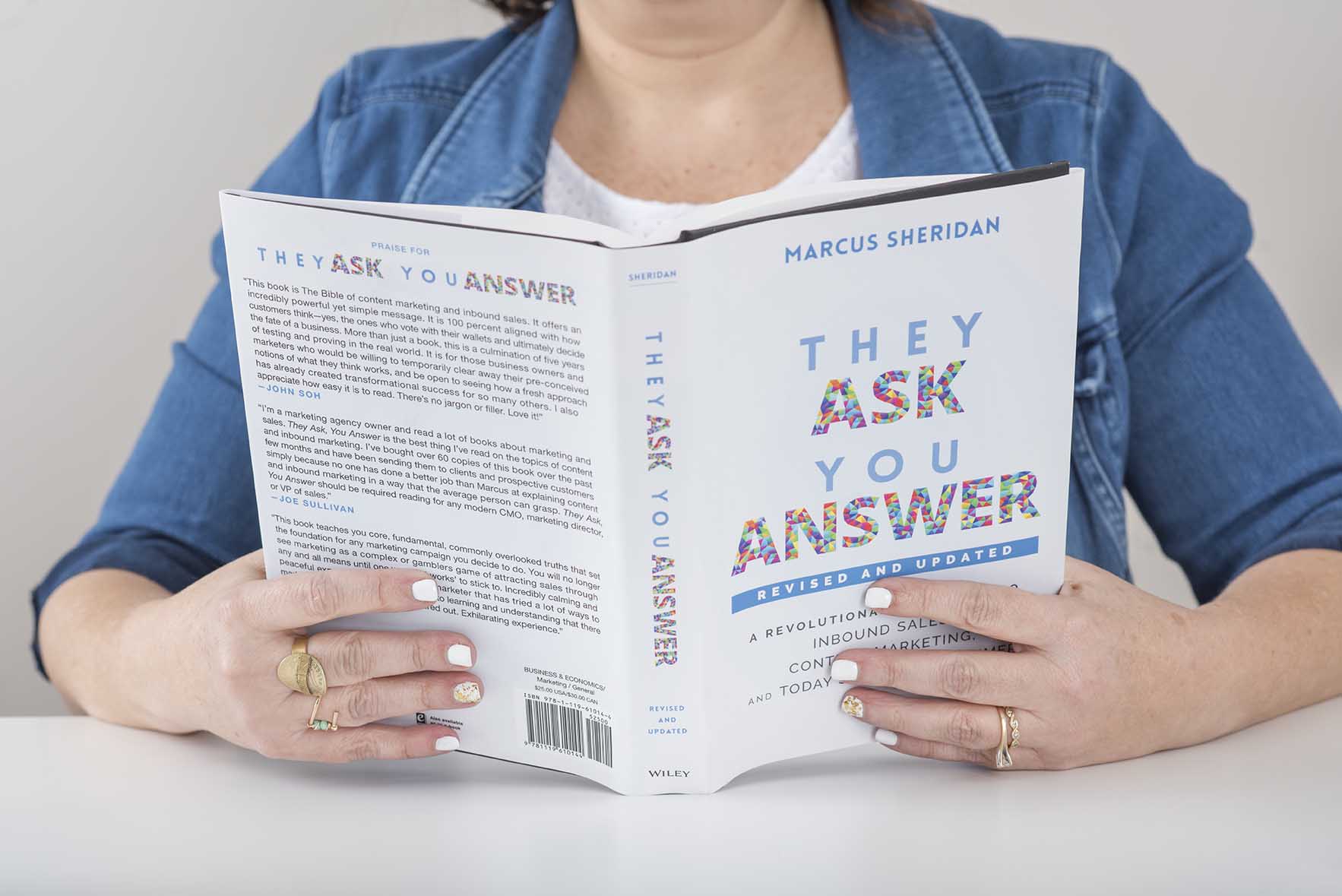 Hiring someone to design or redesign your website can be stressful. My desire is to answer your questions and ensure you have a great experience working with me.
How are you different from other website designers?
I really get to know your business and your unique selling proposition. Then, together we determine the keyword strategy that will get your business ranking in google higher than your competition.

I have a CPA, so I understand what it means to invest money into your website. It is all about Return On Investment! I also work with clients about the best ways to utilize website automation which can save you time and/or bring in clients. I like to think of myself as your marketing partner and website designer rolled into one! Your website can be your "employee." It needs to reflect your company and work for you to generate leads and keep clients.
Tell me more about your website design process.
Based on past projects, your current website and your competitors, we create a unique and lengthy Content Questionnaire that really makes business owners think and communicate their companies' unique goals and target audience before we get started on coding. We've also found that sometimes people "talk" faster than they can write. Therefore, we'll interview you to get all questions answered. Once we have enough business information, we wire-frame a website mock-ups early so you can "see" what your website could look like, and then we go from there.


Also, we know that if you need a website, it's because you want people to know about your business—and the best way to do that is to be found on Google! We include SEO keyword research and integration into every website. When you become our client, we have a vested interest in seeing your business and its website succeed. Therefore, we give tips on how to improve your Google ranking that many website designers do not give you because they are trying to complete your website as quickly as possible.
How do I get a quote from you?
You may schedule a complimentary, no obligation 30-minute session where we can talk about your website (if it already exists) and your current pain points when working with your website. After our 30-minute talk, we might have some follow-up questions, but we will make sure we know enough to create a plan for how your website should function and necessary sections to include. Within a few days, we'll create a custom quote for you. Many people worry about pricing, however, you can see my pricing before hand on my Packages page.

I already have a website, and I can't have it be down while you work on it. Is it possible to keep it running while you work behind the scenes?
Yes, I can work on your website in what is called a staging environment. While I am working on it, I will schedule meetings with you via Zoom so you can see my progress. I can also set up a staging live link so that you can test out the website functionality before it assigned to your domain. Your branded website stays "as-is" until you sign-off that your new website looks complete. Then, I can coordinate with you so your website is uploaded and visible to the world!

I had another designer complete my website a long time ago. Can you redesign it or take over minor changes?
In general, if your website designer is still available it is better to have them make minor changes. If you are not getting any website traffic or people never call you on the phone after finding you on the web, it is probably time for a new website design. Please contact us if you are ready to amplify your business profits through your website!
Do you only create WordPress websites?
Yes. WordPress powers 30% of the web. Its huge market share speaks to its integrations and support. Don't worry, I will teach you how to update it!
Why do I need a WordPress website?
You don't. I am actually a big fan of the Do-It-Yourself Website builders like Wix, Weebly, Shopify and Squarespace.(for a limited time and function) WordPress is used on over 25% of the world's websites, making it the top website builder, but that doesn't mean everyone needs to be on WordPress today. Read my blog post on why I love WordPress. WordPress is open-source and has a much larger learning curve than the other website builders. However, the other website builders do have their disadvantages, and sometimes it is time to move to WordPress. If you are having a hard time updating your website and it looks out of date, then it might be time to hire a website designer. Schedule a consultation with me, and I will discuss the pros and cons with you.
How long does it take to develop a WordPress website?
Your website can be completed as quickly as 4 weeks from contract signing for a small website, but it really depends on how complicated your website is and if you make yourself available for interviews and feedback. Generally projects are completed between 6 and 12 weeks from the start. I make sure that pertinent questions about who you serve and what is unique about your business is answered before I start coding. I work with a certified SEO content writer so that your business messages are stated succinctly and in a persuasive manner. Once your website project starts on my end, we will schedule a kick-off meeting. Together we will make sure your content guide is filled out thoroughly. If you haven't been clear on who your target market is and what you have to offer people, then I'll stop and ask more questions.

If your website is large with a lot of integrations, you are on the longer end of the timeline. Your quote will include an estimated completion timeline along with a price estimate.
Who writes the content for the website?
My content writers write all of the content with input from you and direction from the SEO specialist on which keyword phrases will get you the ROI for your website the fastest. Your website content will be organized based on best practices for website design. Ultimately, your website needs to be engaging for your ideal customer so that they fill out your contact form or complete another goal you identify. This will get your website to be the money maker for you in the years to come.
Do you do website hosting?
Yes, my clients websites are hosted my bulk account in Siteground. This ends up saving the small business owner money as managing a website can be time consuming. Due to quality concerns, we will only design websites going forward on website hosts from a few carriers as not all website hosting services are created equal. We recommend WP Engine or SiteGround.
Will I be able to update the website myself when it is finished?
Yes! I love it when clients embrace their website and update it often. I can provide training with my website packages. I have trained even people who self-describe themselves as "non-techy" and they are thrilled with their progress in learning WordPress. In addition, they love the freedom that updating their own website provides (not to mention how much money it saves them in fees) I can train you in not only WordPress, but also your e-mail integration solution, Google Analytics, and how to find ideas for blog posts. Frequently updated websites get better SEO than "brochure" websites that never change. Go for it!
If you need a new page or additional functionality, we recommend you buy one of our upgrade packages. Once you take it over, if your website "breaks," fixes are additionally billable. However, we have clients who have been maintaining and updating their website for years, and have not "broken" their website at all!
My business isn't located in North Carolina – can I still work with you?
Yes! I am glad you asked! I have worked with clients from the U.K. to California. I recently completed a website for a client that is in Cary, NC (my hometown), but due to the pandemic that shall not be named, we haven't met in person yet. I utilize Zoom, Dropbox, Google drive, the phone, email and whatever tool we need to connect virtually.
How do I compare prices when I am looking at other website developers?
There are many website developers out there and many are very good and have lots of experience. When comparing prices, you should look at the years of experience and the price together. In addition, make sure you are comparing apples to apples. Does the website designer include SEO in their price? Many times that is extra. My prices are listed on my packages page. A WordPress developer with more experience will usually cost more money, but at the same time, they are able to give you more for your money in terms of training, SEO, optimization and security. Be sure to read my article on how to hire a WordPress designer.
Do you use a template or do you custom code websites
For more speedy website design, we start with a template and then custom code it using HTML and css. Our preferred templates are built for website speed, well supported, and are highly customizable so that they look unique. Your business is unique and your website should reflect your business. We get that and when you look at our portfolio, you will notice none of our website look alike.
Do you accept credit cards?
Yes! We accept all major credit cards.
You can see all of my prices on my Packages page. All of my websites come with at least 1 hours of training, a content writer and SEO. Website packages can include logo creation, branding, CRM integration, appointment integration and email campaigns.
Who owns the website when it is done?
You do! You paid for it, it is yours. At the end of the project, we send you a zip file that contains all of your website files.
Will I own the entire website including full ownership, code, copyright, etc.?
Yes! You own everything inside the website. Before we collect a deposit, we send you a contract that states exactly what you are getting and your ownership rights are fully spelled out.
Still not sure whether you should get a new website?
Look at my home page diagram and check your website against my diagram. Does your current website check all the boxes?