Getting new clients after moving to North Carolina: A case study
of Consider It Done! in Raleigh, NC
When I met Sherri at a networking event in 2019, she had only been living in North Carolina for a year. Previous to that, for 15 years, she had had a successful business going in Southern California. And then, one day, life for her turned topsy turvy (literally) on a busy California highway, as she found herself in a car accident – one of those multi-car pileups. In the hospital injured but very much with her brain intact, she heeded that wake-up call. Sherri is doing much better for herself. Her "eureka" moment came when she decided to leave California and find a better way of life, in North Carolina. But why am I telling you about Sherri, you ask?
Because her business journey is so much like many other small businesses. She had a successful concierge business, but something changed and she had to pivot. And pivot she did – to North Carolina. Where no one had ever heard of the word "concierge"?
When she called me, she had only been in business in North Carolina for a few months. And she found the going tough. Very tough, indeed:
She was exhausting herself going to in-person networking events (up to 8 per week).
Her website was fairly out of date, read more like a brochure, and to cap it all, it was not even SEO- friendly.
She thought that she just needed a professional-looking website. Nothing fancy, just something that could bring in the eyeballs.
Points worthy to be noted, but what Sherri did not even consider was the one optimum benefit that a search-engine ranked website like Google gives you – more time to attend to the things that matter. More time to manage her business and less time that she had to spend at networking events promoting it. I knew that a website with a keyword strategy would help Sherri get leads while she was sitting at her desk. I knew that a website without SEO is a missed opportunity, amounting to just leaving money on the table.
Also, I knew that I could not take for granted that a business owner would know the best keywords to rank for in Google.
And I worried, how do I get a website to rank in Google in a new state?
I decided to study her competitors websites and websites in other regions as I set to work on refurbishing Sherri's website.
Based on SEO research we found out the following:
Concierge is NOT a word people from NC use.
No one googles "<insert keyword> in the NC Triangle."
People really want "Help with laundry".
And we found many more keyword business opportunities that I won't specify here or her competitors might clue into what they are missing.
If you do a quick search on Google, you will find Sherri's website – Consider It Done! ranks on top of the page under the map.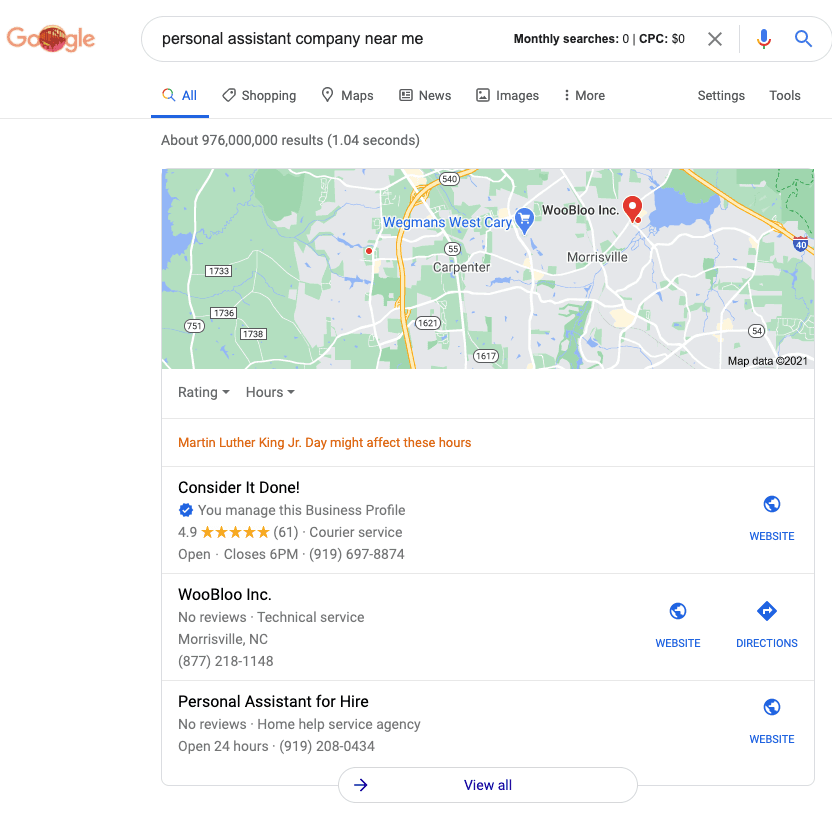 Today, Sherri's website is attractive, user-friendly, and has a dynamic interface, with regular blogs with information to keep user interest alive. She now agrees that revamping her website was one of the best decisions that she made.
With COVID website needs have changed, and with it, Sherri's keyword strategy for her website also has changed. And we worked around that, too. But the nitty-gritty is that:
Your website should work for you. Not the other way around.
A 'professional-looking' website is not enough. SEO-friendly is a must have or you are leaving money on the table.
Keywords do matter. In fact, the right choice of keywords could make or break your website.
To put it in a nutshell, it is best not to compromise when it comes to building a sound SEO-based keyword strategy for your website. When done correctly, this will enhance the user experience, make the website search-engine friendly, and help your business achieve its online marketing goals.
Contact Web Luminary to shine the light on your business.
If you are not getting leads from your website, we should talk about implementing a keyword strategy. Don't waste time hustling to get clients. Have them find you instead.